PaperRater.com Review – Analysis of Services, Prices, Special Features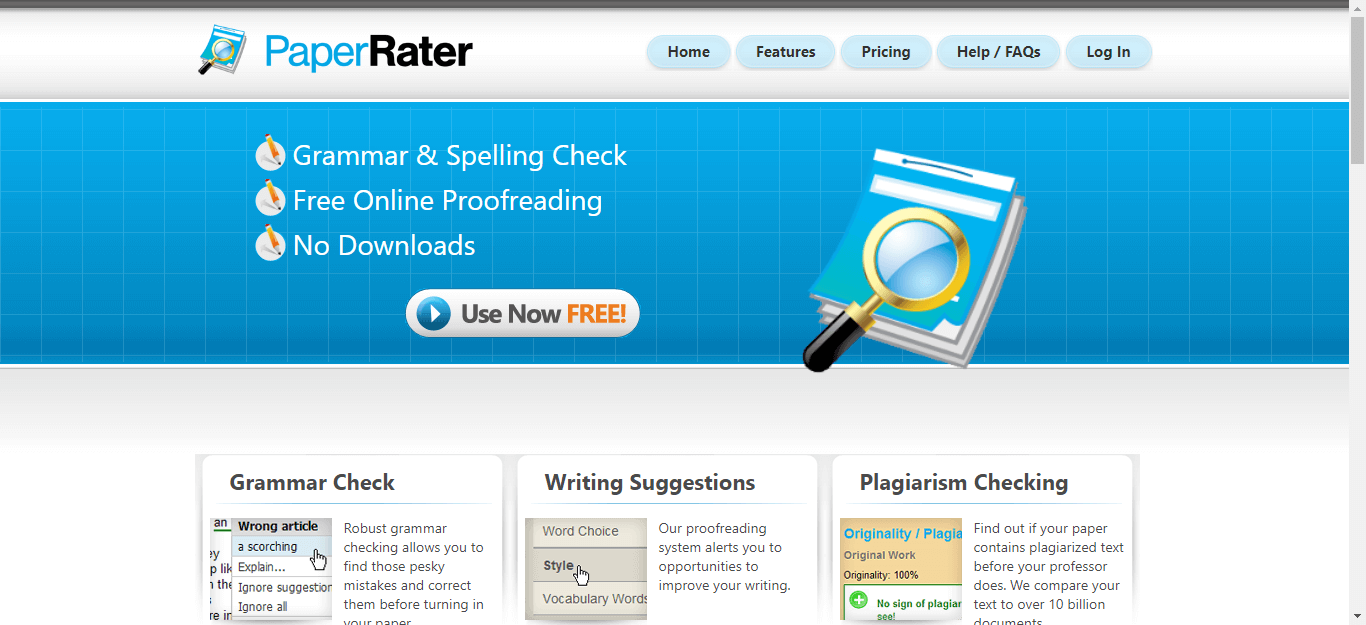 //=$adv_first ?>
Pros:
 an extensive list of editorial servicest; affordable pricing policy
Cons:
services are provided by artificial intelligence; there is no support service; the plagiarism report is not reliable
Visit site
February, 2022 Last Update
February 2022
Every day, students have to create different academic papers. In addition to plagiarism, the texts should not contain grammatical, punctuation, or spelling errors. If these errors are present in the text, you will impair the reading and perception of the content. The absence of a sign of punctuation can lead to a misunderstanding of the essence of the sentence.
To avoid this problem, many students resort to using online spelling checkers. These editors have built-in spelling, punctuation, and grammar checking, making life easier for a student who does not understand anything about this and increases the chances of getting an A +. Of course, automatic text validation is still imperfect. On the other hand, it will allow avoiding very gross mistakes, which will make the document more pleasant to read.
One of the well-known text checking tools is paperrater.com. It was interesting for us to understand the essence of this editor's work, features, guarantees, and reliability. Therefore, we created a paperrater.com review to evaluate all the criteria and give an honest assessment. We will also provide answers to questions about fraud, security, and ease of use. Thanks to this review, you will understand if paperrater.com is legal or a waste of time.
What Is PaperRater.com?
PaperRater is an online tool that allows students, teachers, and common writers to check the text for the correct spelling. The texts are checked by artificial intelligence but not by experts. Paper Checker combines natural language processing, machine learning, information retrieval, computational linguistics, and data mining. In terms of the level of check, the program is significantly inferior to a professional editor – we will discuss the quality of services below.
The process of the tool is simple: on the main page, there is a button "use now free." By clicking this button, the system redirects you to a page where there is a dialog box – where you insert text for verification. Then you need to indicate your academic level, from 1st grade to graduate students. The type of paper also affects the quality of the check. Based on this data, the program analyzes the text.
The website programming language is straightforward – there are no special functions that would distinguish a company from hundreds of similar ones. Developers have been creating designs on the 2000 trends, but now it is 2021, and the design requires a fresh look. The primary color is blue, which is good for the eyes. However, the font is very small and difficult to read. The company has a mobile version, but it is incomplete. Information confuses the reader, and buttons do not always respond to user requests.
Services
Today, PaperRater offers an extensive list of services that set them apart from the competition:
Plagiarism detection. The tool can find borrowed pieces of information from other sources. After verification, you will receive a percentage of your article's uniqueness. However, the function is very weak because there are no precise verification algorithms, such as PlagiarismChecker. The company covered many services at once but invested little money to make the system produce accurate results.
Checking grammar and spelling. With the help of artificial intelligence, the system detects misspellings and typos. The program underlines incorrect words and suggests replacement. Sometimes their advice is absurd. For example, the system suggests a synonym for a word that does not fit the essence of the sentence.
24-hour proofreader. Because the texts are checked by artificial intelligence, the program reads the texts around the clock. Thus, regardless of the time zone, you can check the text without any hassle.
Comparing your text to other students. The system has, in their opinion, an ideal essay, dissertation, research template, by which it compares vocabulary, sentence length, and readability of your text. However, there is no single template that would fit all texts because the requirements for paperwork are different for all educational institutions. Therefore, this feature will not help improve your text.
Automatic evaluation. Thanks to this feature, you will know the preliminary grade for an essay, case study, coursework, etc. The assessment is based on artificial intelligence, and we do not recommend trusting it.
Vocabulary builder. The program can give out the definition of a word and advice on how to use it.
Premium service. Students who need to check long texts can purchase a premium package. As reported by a company of paperrater.com, owners of this package can get more accurate text uniqueness results.
As you can see, some services are incomplete. Some features grab attention – this is a vocabulary builder and 24-hour proofreader. Several competitors do not have such services.
PaperRater.com Discounts and Pricing
Paper Rater offers two service options: paid and free. The free Paper Rater service is a good option for those students who cannot afford the services of a professional editor. Using the free package, you get:
Checking five pages of text from one user.
Checking 50 submissions per month from one user.
Uniqueness check – maximum of ten requests per month.
Checking spelling and grammar at the base level.
Tips for improving the paper.
Preliminary assessment of the document.
The premium package costs $ 14.95 per month. You can also purchase an annual package for $ 95.40. By buying a premium package, you get:
Checking 20 pages of text from one user.
Checking 200 submissions per month from one user.
Uniqueness check – maximum 25 requests per month.
Checking spelling and grammar at the base level.
Tips for improving the paper.
Preliminary assessment of the document.
Plagiarism checker with word replacement tips.
Adblocker.
A more accurate result of the uniqueness of the text.
File upload in formats: doc, docx, txt, rtf.
Faster delivery of results.
At first glance, premium users get significant advantages over regular users. However, there are cheaper alternatives to paperrater.com that offer unlimited spelling and plagiarism checks. Therefore, do not overpay here when there are better deals.
How about the paperrater.com promo code? Well, sometimes you can find promotional codes for a 25% discount here. Most often, this happens in the summer, when the demand for such services is less than during the study period. Therefore, if you want to save money, buy an annual plan in the summer.
Payment Method and Order Form
If you are satisfied with the free version, you can use their services without registration. Premium users need to register before all additional features are available. To register, you need:
Click on the "Login." Only members of the acceptance version can register.
Enter your email and come up with a password to enter the system.
Choose a tariff plan: monthly or annual.
Pay for services.
The payment methods at paperrater.com are varied:
Cards: Visa and Mastercard.
American Express.
Diners Club.
Discover.
JCB.
Union Pay.
However, PayPal owners will not pay for the premium package, which is very inconvenient. In the description of pricing, there is such a thing as a lifetime subscription. We did not understand what the company owner meant by this phrase because when buying a premium version, there is no such function – is paperrater.com cheating.
When choosing to pay by card, you need to specify the following data: name and surname of the cardholder, card number, CVC, card validity period (month and year). Note that when purchasing any of the plans, payment will be charged automatically. Therefore, if you do not want to lose money, remove the card number in advance.
Special Features For Customers
Apart from the above services, the company does not provide special features. It would be nice if the developers added a punctuation check function, like in Grammarly. Then students could improve their knowledge in this area and avoid punctuation errors.
Reputation and Quality
Is paperrater.com good? To answer this question, we studied paperrater.com reviews from customers and used their services ourselves.
We first analyzed Sitejabber paperrater.com. One customer complained that the program gives inaccurate results when checking for uniqueness. He was also confused by how to improve the spelling of words – synonyms are not suitable for an essay in a business style.
We then explored paperrater.com Reddit. The student indicated that the paperrater.com scam manifests itself in a spell checker. The program gave errors in those words in which a priori there were no typos or missing letters. Therefore, the user complained that the program was not suitable for the analysis of academic texts.
Finally, we checked the quality of paperrater.com services ourselves. We noticed that the tool does not see some obvious errors – this flaw can significantly reduce the rating of your text. The program also marked correct grammar and punctuation as incorrect. Artificial intelligence gets confused about the rules of grammar and spelling.
How about paperrater.com plagiarism? We have copied information from the Internet on purpose and diluted it with our thoughts. However, the program did not detect plagiarism. Therefore, if your text will pass the final check at the educational institution, you may be accused of plagiarism.
Customer Support
The support service is the biggest drawback of paperrater.com because it would be better if users could instantly get rid of unrest by contacting the managers. There is no 24/7 support service here. The company offers to contact them by email on weekdays from 9:00 am to 5:30 pm. So if you need quick help on the weekend, you will have to wait a long time. The website has a Help/FAQ section. The developers have collected answers to common questions in this section. However, in difficult situations, these answers will not help.
Guarantees – Can I get my money back?
The company does not provide a money-back guarantee when purchasing the premium version. They believe that you could evaluate the free services in advance and make a decision based on this. However, functions like an ad blocker, vocabulary builder are not available in the free version. How, then, can we evaluate them? Perhaps they are poorly functional? The developers did not think about it. The only guarantees that the program gives are accurate spelling, grammar, and plagiarism checks. However, based on our experience and customer feedback, their results are inaccurate, as they claim to be. Therefore, we cannot trust these guarantees.
Pros and Cons
We found the positive and negative sides of paperrater.com. Let's match them:
| | |
| --- | --- |
| Pros | Cons |
| An extensive list of services. | The premium version has a limited limit on spelling and uniqueness checks. |
| Interesting special features. | Bad online reputation. |
| 24-hour proofreader | No money-back guarantee. |
| There are free services. | There is no 24/7 support service. |
| There are many payment methods. | Poor quality of text checking. |
| | There is no PayPal payment method. |
| | Outdated website design. |
Conclusion
We have compiled an honest paperrater.com review to provide comprehensive answers to your questions. Based on the table above, we can see that the disadvantages outweigh the advantages. You won't be able to get 24/7 support, accurate spelling check results, and plagiarism. The premium version does not offer many privileges – the developers should have been given an unlimited limit on text checking. If you are unhappy with the premium version, the company will not refund your money. Therefore, our residual rating is 2.8/5.
Choose a Trusted Service
Don't know which company to entrust your texts to? You can analyze our list of the best companies that check texts at a high level. They provide accurate results and tips for improving punctuation. Therefore, with such a team, you can count on A+. If you are confused by the work of any company, let us know. We will evaluate it according to the same criteria and give an honest assessment.
FAQ
Do you still have questions about paperrater.com? Read the answers to popular questions and make the final decision on cooperation.
Is PaperRater.com Legit?
We often hear the question – Is paperrater.com legal? The company is officially registered and provides services legally.
Is PaperRater.com Scam?
The company gives inaccurate results and thus misleads users. Moreover, their offer for a lifetime purchase of the premium version does not exist.
How much does it cost to use PaperRater.com?
You can use the free and paid services of PaperRater. The premium version costs $ 14.95 per month and $ 95.40 per year.
Is my PaperRater.com safe?
To use the free services, you do not need to register. Therefore, you do not share personal data with them that the company could use against you. When buying the paid version, be careful because the fee is charged automatically, and you risk losing money when you do not use their services.