Studypool Service – Is It Worth Your Time and Money?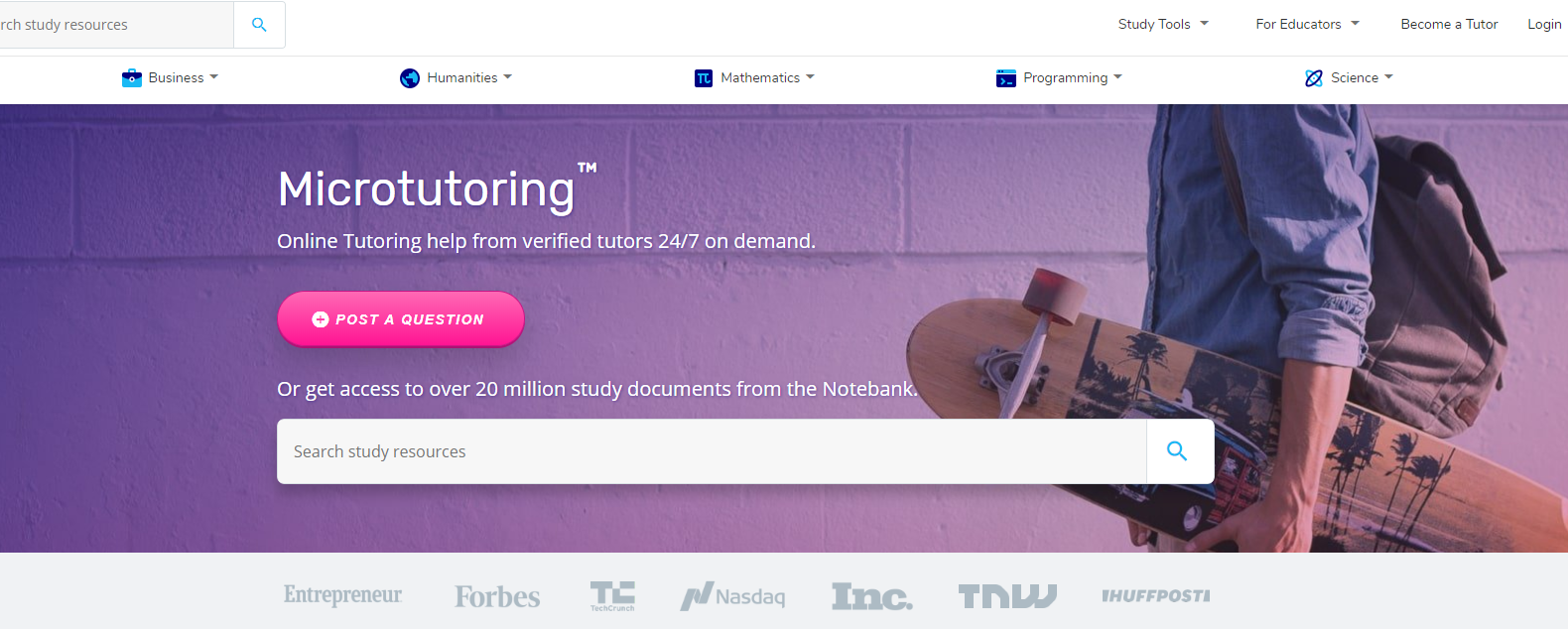 //=$adv_first ?>
Pros:
Wide range of subjects, timely delivery
Visit site
August, 2020 Last Update
August 2020
Let's be fair, each of us at least once during our studies needs assistance with some subject or home task. And this is very normal. Students are usually busy with so many things that it is not difficult to get overwhelmed with home tasks. In a situation like that one can use help. Thanks to the internet, it is possible to get help not even leaving your room. How to choose a good service, read below.
Studypool.com Company Info
Studypool.com is one of the online tutoring platforms, which acts globally and gives the students access to professional tutors, regardless of their budget, amount of time and location. The platform gives the opportunity to deepen the learning experience for students of all levels. Simply said, some students go to the platform to search for materials to buy, others – to get help with their homework questions.
The main purpose of Studypool is to give the tools of learning on-demand for students when they need it at most. The Microtutoring service at once connects the students with the most appropriate tutors who can help with the questions that arose. Students should not wait for much time to get help from a professional expert.
The platform evolves the ways to enhance the process of learning for the client's needs and deals with the study documents on different subjects as accounting, algebra, biology, chemistry, history, statistics, python, political science, etc.
Quality Issue
Whatever we buy, we want it to have good quality as possible. Even if the price is not that high. For students, quality is essential because their reputation depends on that.
Quality of Writers
As the quality issue is of much importance in such services, studypool pays much attention to the quality of its services and work. The studypool tutor, who delivered plagiarized assignment, gets suspended at once.
Content Quality
Unfortunately, the platform doesn't check the assignments for plagiarism automatically before delivering work to the client. But there is an integrated content checker on studypool website, which can be used by all clients. If the client finds his/her paper to be plagiarized, he/she should report about it and all necessary steps will be taken. But not all clients of the platform are acknowledged about this checker, which leads to a number of studypool scam reviews on the website.
Customer Support
One of the most important things that need to be improved on-site is the quality of its customer support. First of all, it takes a relatively long time to get the answer to your question. Secondly, it doesn't give useful information or a direct answer to your question, just a general guideline of how the studypool service works. We can also see from a number of studypool reviews of its client that the customer support service needs to be revised as soon as possible.
Money Issue
The financial issue is always one of the main factors influencing our choice. Especially if you are a student. This is why a good pricing policy, discount, and bonus system will be an advantage in choosing a writing service.
Prices
The prices for services on the platform is very reasonable and not high, what often leads to the question "is studypool legit?" we have been working with the platform for a couple of years and before now it hasn't disappointed me.
The level of the price depends on a couple of factors. The first one is your deadline: the more urgently you need your work or answer to your question, the higher will be the price. The minimum cost per question starts from 10$ and the maximum you can pay around 35$. The second one is the level of writing: without a doubt, the Ph.D. or Masters's writings will be more expensive than ones of other tutors. Summarizing up, the studypool pricing system is thought-out well.
Payment Options
The payment system of studypool is very safe and you don't have to worry about your money. You have several payment options to choose: Visa, PayPal, American Express and MasterCard. We've used the last one and haven't had any inconvenience. The company also states that they have the best fraud prevention tools to save your personal data from cyber thieves.
Discounts
Of course, every platform is interested in client engagement, so studypool provides a very flexible system of discounts for its loyal customers. Depending on the service or answer to the question provided, you will get your reasonable price.
Special Offers
As the platform is mostly oriented to college students, from time to time it provides some special discounts and depending on the answer the client wants, you can even pay such ridiculous amount as one dollar.
Usability Issue
Everybody looks for comfort in anything. And it is absolutely applicable to tutoring services. Complicated ordering forms, strange systems will definitely not be in favor of the company.
Website's Design
What makes the studypool user-friendly for its clients is a simple design and excellent layout. It's very easy to navigate the site and get to the page you need without any issue. The process of signup and placing the order was very coherent too.
Ordering Process
Anyone can place the order without a problem, the platform made this system very simple and accessible for all.
First of all, you need to post your writing assignment or question with the budget and delivery time stated. All you question are anonymous. Then the system matches your task with an appropriate studypool tutor. Every client also has an option to choose a tutor he/she likes, otherwise, the system matches it automatically with the recommended one. After the work is done, the client receives his assignment and should check it for plagiarism.
Timely Delivery
The student should state the delivery time in his/her assignment. In order to get work done in time, the deadline should be well thought out. The tutor sees the deadline and has to fulfill the task on time.
Extra Features
Another useful feature is that you can stay anonymous after your registration on-site. None of your information can be leaked out also. All personal information, including your bank details, are safe from cyber thieves and other clients.
Trustworthy Issue
Trust in the service is something that comes with experience. You will hardly trust someone because your acquaintances said you can, won't you?
Reputation
In spite of the very various reviews about Studypool platform, we should say that we esteem this site as a reliable one. Our pros are very simple: we just placed my order, have my assignment done, checked it on a special system and only after that (not before) we paid for it. My experience with this site made us trust it very easily.
Guarantees, Moneyback Policy, etc.
The company created various standardized processes of checking the quality of services provided by all tutors and assignments. It also emphasizes on providing just professional tutor experience to clients. Every studypool tutor also has his/her reputation score, which can be seen by all clients, when they post their bid. You can also post your score to the tutor after work is done. But the most important guarantee is Studypool Moneyback policy. If you are not satisfied with the provided services, you can ask for studypool refund and get it easily. To our mind, that's can be the best answer to the issue of the reliability of the platform.
Get Writing Help from Trusted Essay Company
There are a lot of trusted writing services on the market. They have all the needed systems included, started from quality checks to the refund system. You don't need to pay much time to read all the necessary information and worrying about the quality of your ready assignment. We all know that if the student applies for help to such service, he/she doesn't want to waste the time for his/her money paid. So apply yourself thoughtfully to the task of choosing the writing service and enjoy the results.