Acemyhomework.com: Detailed Review of Online Services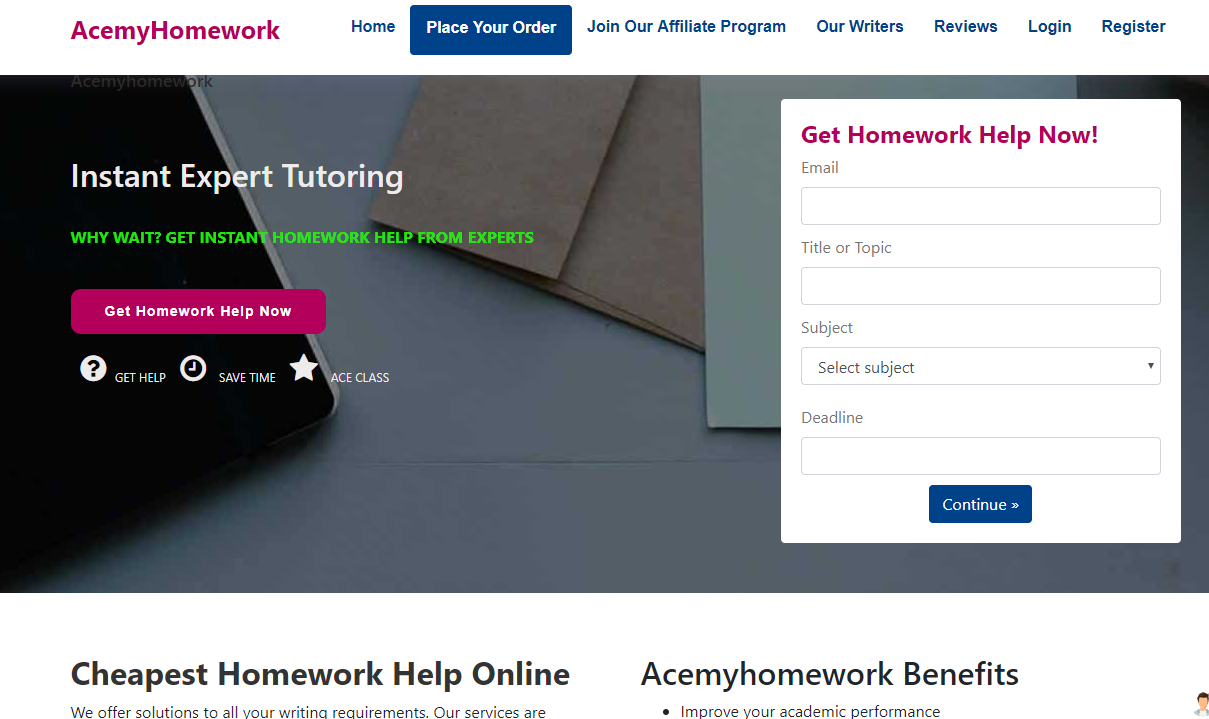 //=$adv_first ?>
Pros:
Diversity of types of papers
Cons:
Low quality of assignments, missing deadlines
Visit site
August, 2020 Last Update
August 2020
Acemyhomework.com is a modern online writing company that offers professional writing services for students. The company performs academic papers of any difficulty. It also assures fast online writing help and professional round-the-clock support. The qualified writers can complete various types of academic assignments, including different essay types, research papers, reports, articles, and homework projects. The service can deal with urgent orders if needed.
Acemyhomework.com Company Info
According to numerous Acemyhomework reviews, the company offers average-quality writing services. In fact, this modern writing platform provides various academic papers and homework assistance. The official website states a 100% rate of clients' approval. Moreover, it also declared that the writers have already completed over 14,000 excellent academic writing projects. The team of writers includes 190 specialists. The writers can complete papers of any difficulty and due to a scheduled deadline.
The writing service specifies every writer as a native English speaker. In fact, according to the numerous testimonials and reviews online, most of the writers are non-English native speakers. Additionally, the company's official website lacks important information. It is very difficult to get some useful info about the exact types of assignments or writing services' detailed characteristics. It is also complicated to navigate a website. Often, it becomes a big problem since the students need clear and detailed information on services offered, pricing policy, and available discounts.
Quality Issue
The reviews placed at Acemyhomework Redditpage, reveals the facts of low-quality papers delivered. The writers often rearrange their deadlines. Even with a team of professional writers that totals almost 200 specialists, the company cannot assure proper communication between the client and the author. Often, when students need to upload additional instructions, they stuck chatting with a customer support agent for hours. It does not allow assuring a perfect paper eventually.
Quality of Writers
The writing service declares over 190 writers who remain native English speakers with university degrees in various fields of study. In fact, many writers are non-English speakers. They often fail to deliver papers due to a deadline. It also can take additional time to provide any possible revisions if needed, so students cannot submit their papers timely.
Content Quality
The list of offered writing services is impressive. Nevertheless, writers can fail to deliver numerous academic projects timely and finally sent them with delays. The service brings a convenient bidding system. It helps clients to choose the most suitable writer. Still, even with numerous advantages and expertise offered, it is impossible to get a paper on time since a few revisions are always needed. The writers fail to respond fast. Therefore, the final content can be unsatisfactory.
Customer Support
The customer support group works round-the-clock and can be reached via email, phone, and live chat. It is often difficult to reach a support team. It is mostly caused by the fact many support agents are busy providing additional information for students that is absent on its official website.
Money Issue
The website does not offer a clear pricing policy. You cannot calculate a price for an order in advance. The starting price for a simple order is $9 per page, still, the final fee can be much bigger. The Acemyhomework pricesdepend on the type of paper, academic level, number of pages, and a scheduled deadline.
Prices
Acemyhomework final fees depend on the needed type of paper, academic level, number of pages, and a scheduled deadline. You cannot calculate the total price in advance. The company deals with urgent orders, but they cost a lot.
Payment Options
You can deposit your money once using one of the most popular payment methods listed on the website. It is easy to pay for an order in a few clicks. You can also use a bidding system to pay by parts.
Discounts
The writing service brings the Acemyhomework couponfor a 15% discount for clients' first orders. The customers can get it as a welcoming offer.
Special Offers
The custom writing service provides a set of special offers, but they cost additional money:
Selection of a preferable writer;
Direct live chat with the writer.
Usability Issue
The official website has a rich menu. Still, it is difficult to navigate a website. Moreover, it lacks a bunch of important information on the company's writing services, types of assignments completed, and pricing policy details. After visiting a website, you still need some extra sources of information do deal with when placing your order. It makes chatting with customer support the only option. There is no proper information dedicated to every completed type of assignment. In fact, you also cannot find a description of numerous writing services and the company's additional offers on the website.
Website's Design
The website has a bunch of information placed on its pages. Mostly, this information is of no use. The official site lacks enough vital info about writing services, types of assignments completed, and pricing policy details. You need to reach a support agent to get the full information.
Ordering Process
The ordering process is standard. You need to fill an ordering form and list the needed type of paper, a number of pages, academic level, and a deadline. You also should upload all your requirements when placing an order to get a paper on time. You can use a bidding system if needed.
Timely Delivery
The writing service assures timely delivery. Nevertheless, in the case of revisions needed to improve a written piece, you can fail to submit a completed paper on-time. The writers cannot respond fast when improving a paper.
Extra Features
The custom writing service provides an opportunity to select a preferable writer and chat directly with the writer. These services are offered for extra fees.
Trustworthy Issue
Asking the question is Acemyhomework safecan be difficult. In fact, the writing service delivers various types of academic papers and can deal with homework assistance. Still, the offered papers can be delivered with delays. Also, the writers cannot deal with revisions quickly. According to numerous reviews, the company writers can deliver low-quality papers and often with delays, thus the completed pieces require numerous revisions that cannot be done timely.
Reputation
Acemyhomework legitwriting agency has a controversial reputation. It is difficult to figure out a bunch of companies' services, pricing policies, refund guarantees, and additional policies. Every client should think carefully before ordering at the site.
Guarantees, Money back Policy, etc.
The website keeps numerous guarantees like a refund policyand free revisions to assure clients that there is no way Acemyhomework is cheating. It makes clients believe they can improve their written pieces if needed. Still, the revisions can take too much time. Eventually, you can fail to submit a paper timely.
Verdict
Ordering Acemyhomework services can bring some advantages and a lot of problems. Therefore, be very careful when placing an order on the website. The service offers a welcoming bonus, various assignments' performing, special paid offers, and average prices. Nevertheless, you can get a bad-quality paper delivered with delays. Moreover, even revisions can be done with delays.
Get Writing Help from Trusted Essay Company
There is no need to reach an unreliable custom writing service when you need to order an academic paper or get professional online assistance. There are many trustworthy online essay writing services in the current market. You can look through the list of reliable writing services on our website. Just select the best online service to complete your original and flawless paper on-time. Be sure, you will find your best online assistant!